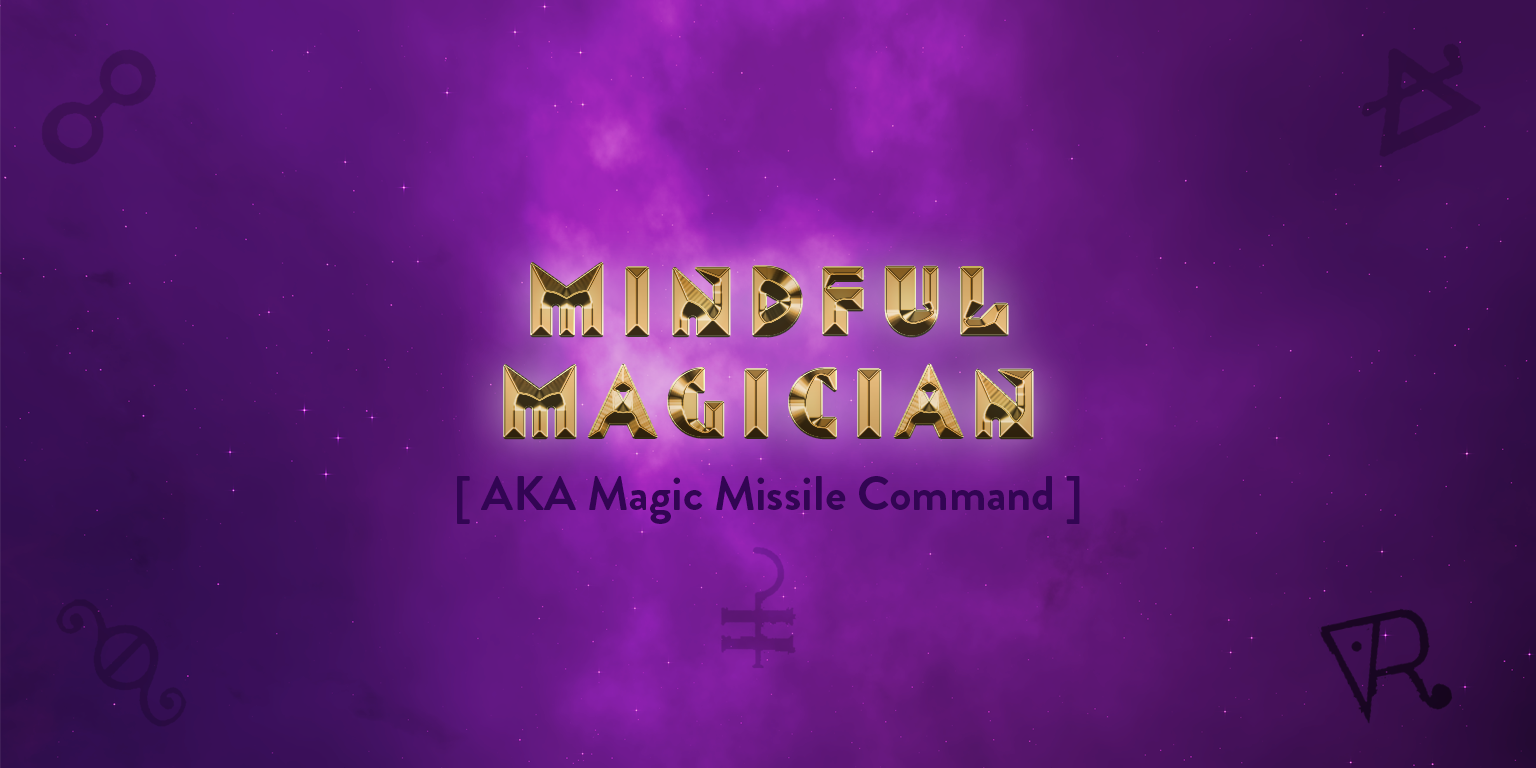 Mindful Magician
A downloadable game for Android
Mindful Magician is a VR game prototype. It was created by the Lightseed team in 10 days for the PIGSquad Summer Slow Jam in June 2019; the technical theme was "arcade" and the creative theme was "occult classic."
The game play has a unique spellcasting mechanic. The game world is inspired by the arcade classic Missile Command, with a bit of Tempest; both games were designed by the great Dave Theurer for Atari. We used occult alchemy symbols to represent curses and blessings.
BACKGROUND
The arcade theme led us to focus on the simplified game play that made early arcade games so enduring, while adding some of the 21st-century digital techniques we use in our VR games. We wanted to put the player INSIDE the game, but with just 10 days to work, we decided not to try to include player movement in a larger space. Therefore we focused on those games where the player is at the center of the action, such as Asteroids, Tempest, and especially Missile Command, a Cold-War classic that requires a bit of forethought on how to prevent destruction of your cities.
To incorporate the occult theme, we explored multiple mystical systems such as the Tarot, astrology, witchcraft, and alchemy. All of these systems influenced each other, especially in the heyday of the occult in the 19th century. We liked the concepts of balance and interaction of elements in alchemy, which after all is based on real chemistry, and spoke to our earth out of balance: our present-day doomsday. With a bit of creative license, we selected alchemical symbols that could represent decay, pollution, and danger—from arsenic and rust to cinnabar and rot—and then countered them with sunlight, the seasons, balance, and even soap.
TECHNICAL & DESIGN NOTES
The spell casting system is our own design; gestures are recognized, fit to a plane within the three dimensions, and then the summoned spell is projected on the "normal" (the perpendicular line out of the center of the plane) towards the curses.
Development was done in Unity3D with VRTK. Scenery and props were built in Probuilder and incorporated the Trees and Rocks pack from LMHPoly. Animated materials were created in the new Unity Shader Graph for the Lightweight Render Pipeline.
The music was inspired by F. Moyer's Phantasm soundtrack and created in Ableton Live with the complete Output VST suite. Sound effects were built (in Audition) from samples provided by the wonderful freesound.org — details available upon request.
| | |
| --- | --- |
| Status | Prototype |
| Platforms | Android |
| Author | lightseed |
| Genre | Survival |
| Made with | HTC Vive, Oculus Rift, Unity |
| Tags | alchemy, Arcade, Magic, occult, Singleplayer, sorcerer, sorceress, spells, Virtual Reality (VR), Wizards |
| Average session | A few minutes |
| Languages | English |
| Inputs | Oculus Rift, HTC Vive |
Download
Click download now to get access to the following files:
Mindful Magician v 0.5
101 MB